Most Popular Aashif Sheikh Trailers
Total trailers found: 10
13 January 1995
Divine intervention lets reincarnated brothers realize their identities and seek revenge upon their killer.
27 July 1995
With crime flourishing out of control, the Assistant Commissioner of Police (ACP) arranges a meeting of senior police officers to discuss this situation.
15 August 1997
Grandpa and Grandma Kapoor live a wealthy life-style with their only widower son, Kailashnath and his daughter Ashi who is of marriage-able age.
19 January 1996
Arjun and Geeta are a young couple, who are deeply in love with each other. They get married, and soon are proud parents.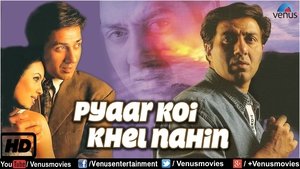 23 July 1999
Romance meets crime drama, when Nisha and Sunil are wed, but face the consequences of Sunil's brother's questionable business associates.
13 February 2004
Indian (Sohail Khan), or I, as he goes by, is distraught when he must move to London with his father in order to live with the rest of his family, who have been living in England for a while.
23 June 1995
Two powerful and strong-armed gangsters work for opposite political parties. Bhau works for Anil Rege, while Shakti works for Babbanrao.
06 June 2007
Lal wants to start his tourist bus service and enlists the help of his brother-in-law, Das, who takes him to Chor Bazar, and for two Lakh Rupees assembles a hideous-looking bus to transport passengers from Bombay to Goa.
11 April 1997
In the darkness of night a dangerous, mentally disturbed man called Karan (Rishi Kapoor) escapes from the mental asylum and this news spreads in the city.
04 July 2001
A modern day story of an innocent boy (Ravi) of Royal lineage who is sent to Hong Kong by his Father's conniving manager, Kailash Choudhary (K.