Most Popular Ryuya Wakaba Trailers
Total trailers found: 8
26 January 2011
After trying to rescue a man on the subway tracks, two teens wake up in a room dominated by a mysterious black sphere that sends them to hunt down and kill aliens hiding on Earth.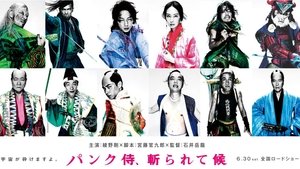 30 June 2018
Junoshin Kake is a ronin. To get hired by the Kurokaze Han, he lies and tells them that a religious group is trying to destroy them.
23 April 2011
Perfect Answer begins several months after the events of the first film. Kurono is still fighting aliens under the order of Gantz, a mysterious giant black orb, and he is close to reaching the score he needs to resurrect his friend Kato.
11 November 2017
Tsuchida works at a host club in secret to support her live-in boyfriend Seiichi, in order to fulfill his dream of becoming a musician.
20 December 2008
Mei has been in love with Yuya all her life. They've grown up together. But when they reach their second year of middle school, Yuya suddenly professes his love for her older sister, Haruna.
16 May 2015
Naoki works as a not so popular host at the host club Akegarasu in Shinagawa, Tokyo. His repayment day is coming soon and he has prepared 10 million yen to pay off his debt.
22 July 2006
Akira had to transfer schools upon graduation because of her father's job. She was reluctant to move because of her secret love for Nao.
22 October 2010
Set during the Edo Period, a young man from a noble family meets a young woman under a special tree called "Raiou" (the tree was struck by lightning at one time with the broken part eventually sprouting out cherry blossoms).